We are often asked "Why would I need a broker? Why not just go straight to my bank?" Here are so of the many advantages in engaging a broker;
BEST INTEREST DUTY
Brokers are regulated under a very strict code called the "best interest duty", while banks are not. This requires us, by law, to act in the best interest of you as our client. We act as a buffer between you and the banks. Remember: banks make money on your use of their product, so they want to offer you the highest loan for your capacity, and want to sell you their own product. Whereas, we want to ensure you have a product you can manage, service and afford over the length and life of your loan.
VARIETY
Brokers offer a range of lenders and lending options, whereas banks can only offer you what they provide. If they don't have what you need, they won't recommend another lender in competition to them, even if it would be a better fit for your circumstances. We currently have 35 different lenders, and all with a multitude of loan options. This offers you a greater range to choose from to find the best fit.
NETWORK
Brokers are required to work under a framework, an aggregator, which provides platforms, insurance and support to our team of brokers. This enables us to keep our focus always on what is best for our clients. However, banks are looked after by shareholders and required to turn a profit to ensure the continuing success of their business. Their focus is therefore not on service, but profit.
CLIENT FIRST
Brokers work for our clients; not the banks. Brokers don't have a favourite bank, all have different levels of service and products and types, so we fit the loan to your circumstances. We determine what would be ideal then we go back to the lender to see what product in the marketplace suits you best.
SOLVING PROBLEMS
Brokers work hard to ensure your settlement is problem free, by engaging with lenders, solving problems, proactively seeking responses and providing step-by-step guidance. Banks use settlement agents and are notoriously unavailable to contact (Have you ever tried to look up your local bank branch phone number?!).
LONG TERM RELATIONSHIP
Brokers work with our clients every step of the way, from inception of the loan right through to settlement day, and then into the future of the loan through to refinancing options as your circumstances alter. Whereas banks hook you into long-term loan time frames while offering no service, no benefits, with their primary goal is to benefit financially from your commitment. We want to be with you for life!
At Real Choice Finance, we have 20 years of banking industry experience and a further 24 years as Finance Brokers. We work hard to get the best outcome for you and your circumstances. If you have any questions, please reach out, we'd love to help you.
DISCLAIMER: "While parts of this article can translate for some situations with buying a home in Australia, this opinion piece is in the context of the Toowoomba Home Market. We cannot give blanket advice on loans that require tailoring to the individual's circumstances. Please contact our team and we can help you find out how to get those finances healthy and ready to get into your very own home."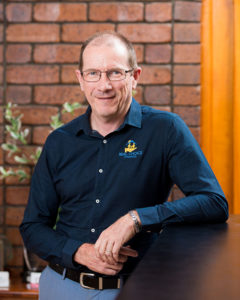 Vince Ernst is an accredited Mortgage Broker, and has been helping first home buyers, couples and families into houses throughout Toowoomba and Southern Queensland for more than 25 years.
Vincent Ernst is a credit representative (Credit Representative No. 399017) of BLSSA Pty Ltd ACN 117 651 760 (Australian Credit No. 391237).