As the current and speculated interest rate rises hit the news, we have had many enquiries from our clients about the options for fixing their loan. Should you fix or should you stay with your variable loan? These are great questions and to help you with this we wanted to share some further information.
In the last couple of months, we have already seen the reserve bank lift interest rates by .75%. Most economists predict that there will be several rate rises over the next two years. Unfortunately, it is unknown how many, how long, and how high interest rates will go. The economy is unpredictable, and things can change quickly.
Many Banks have already lifted their fixed interest rates and had done so before the Reserve Bank announced the rate rises. At the moment, to fix your loan between 3 & 5 years, rates are on average between 4.5% and 6.5%.  If you were to fix now, your interest rate would most likely increase and that comes with an immediate hike in your repayments.  There could also be other implications to you and your overall financial situation, now and in the long term. To find out more about this please call the office on 07 4632 9211 and book a phone consult.
What else could you do?
Fixing your loan may not be for you and another option could be to pay extra on your current loan repayment.  Most rates on variable loans are still sitting between the high 2's to 3.5% (depending on your loan circumstances) – if your loan is variable and your rates are sitting higher than 3.5 %, please reach out to us to discuss your options – we may be able to renegotiate with your Bank or find you a better deal.
Paying in extra to your current variable loan can help in many ways – The extra money you have put towards your repayments will increase the surplus funds in your loan and when/if further rate increases arrive you will already be ahead.  By creating this surplus, you may delay any forced increase in your loan repayments that may come. You will have become used to making a higher repayment so budgeting will be easier and not to mention, you will be paying less interest overall and potentially decreasing your loan term.
It is also important to remember that when you first applied for your loan, there was a buffer applied to your rate when calculating your home loan affordability  – this was to ensure that you were able to afford the loan at a higher rate should interest rates increase.
Give us a call to review your loan.
There are various options available that may help you to prepare to meet any further increases in interest rates. Here at Real Choice Finance, we believe that regularly reviewing your loan is one of the most important things you can do.
Have you considered your long term financial goals and what you are trying to achieve recently?  If you have not reviewed your loan recently or have any other questions or concerns about your loan we would love for you to contact us.
Please call the office on  07 4632 9211 to book a time with one of our Brokers for your review.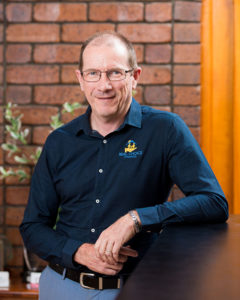 Vince Ernst is an accredited Mortgage Broker, and has been helping first home buyers, couples and families into houses throughout Toowoomba and Southern Queensland for more than 25 years.
Vincent Ernst is a credit representative (Credit Representative No. 399017) of BLSSA Pty Ltd ACN 117 651 760 (Australian Credit No. 391237).
Disclaimer: The content of this email is general in nature and is presented for informative purposes. It is not intended to constitute tax or financial advice, whether general or personal nor is it intended to imply any recommendation or opinion about a financial product. It does not take into consideration your personal situation and may not be relevant to circumstances. Before taking any action, consider your own particular circumstances and seek professional advice. This content is protected by copyright laws and various other intellectual property laws. It is not to be modified, reproduced or republished without prior written consent.